In this #lockdown phase, most of us are still spending major time at home because of the situation, sometimes we feel bored to choose the old and regular outfits, so it's time to sneak peek into the wardrobe and rediscover a new range of loungewear. Be positive with a little twist in fashion sense. So divas! It's time to upgrade your relaxed loungewear collections for redecorating the new clothing range. To boost our mood it's hard to deny that we are monotonously wearing old clothes from the past decade, and think no one comes to judge us. It sounds quite negative, isn't it? Let's dress for ourselves to look comfortable and relax. During this #lockdown it's time to clean your wardrobe and recharge your self-love power in a positive way. During this #lockdown phase selects something comfortable to wear around the house. I have picked out 10 relaxed loungewear options that help to keep you smart, fashionable, and satisfied all day long. You can try everything from this list for a good makeover.
Pajama Set: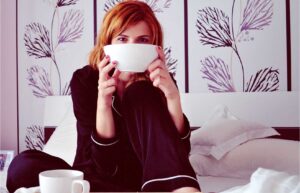 Pajama sets are designed for women who prefer to stay in style all day long. The two-piece top and pants are available in many stylish cuts and patterns. During this isolation stage, we want to look cool and comfortable. So, try your pajama style in floral, stripes, checks, abstract, funky motifs, hand-blocked prints, and choose bright and beautiful color shades. The fabrics are skin-friendly, most of the pajama sets are designed in cotton, knitwear, soft satin for a long comfort.
Sleep Shirt/ Nightshirt:
The fashionable soft shades or classic striped nightshirt will give you a warmer night in style. The shirts are made from pure fabrics, sustainably sourced cotton, Jersey, and interlock fabrics are mostly used. The sleep shirt is fine to wear, dropped shoulders, open neckline and loose fitted curved hemline give you maximum comfort. This kind of loungewear for women balances the style and comfort equally.
Slip Dress:
Fashion meets comfort, some people find slip dresses more stylish loungewear. A short and mid-length chemise or slip dresses are beautiful options for relaxing at home or getting a restful night nap. The dresses are made from soft sustainable fabrics or sheer satin, designs are embellished with delicate laces, pretty necklines, netted silky flowing chemise, eye-catching texture with a trimmed edge, adjustable spaghetti straps or tie-ups. Floral or dots, geometric or stylish strips, are available in various motifs and designs. Choose your slip dress that suits your style statement.
Shorts (Boxers) and Tees: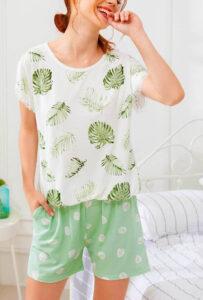 My favorite loungewear that suits my resting moods. In this #lockdown phase, I am spending quality time with my laptop laying down on the bed. It's really comfortable to wear boxers and tees. The boyfriend shorts or boxers are loose fit enough that makes you comfy for long hours. Feel relaxed at home with a flip flop sleeper for a complete look. Sleep tanks, printed tops, graphics tees with a crew neckline and curved hem looks good, beautiful prints and shades are available that suit your style. Stretchy and breathable in soft cotton fabrics are the ultimate choice of comfort.
Kurta Pajama Set:
The trendy kurta and pajama are paired together for a feminine vibe. Loose fitted kurta and pajamas give you great comfort. Those who want to change your old sleep wardrobe can think of it. The casual wear suits your style with fun prints, paisley or floral motifs, soft or solid colors, ethnic or tie-and-dye shades. Fabrics are soft and skin-friendly for all-day comfort. So grab these two pieces of kurta and pajama set for fashionable sleepwear.
Playsuits or Jumpsuits: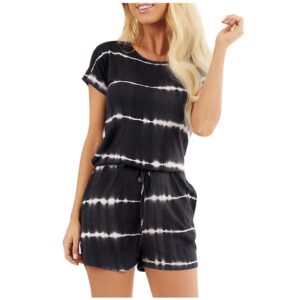 Live your girly dream with self-love. Playsuits or jumpsuits are not proper loungewear, but some people find soft and lightweight knits textured are comfortable for a long day homestay. The skin-friendly sleepwear is excellent for relaxing, it is a perfect choice for playing games, chilling with friends, wearing it for bathing or bedtime sleep. Nice hues and motifs are available with soft and bold hues that suit your personality.
Long Sleep Gowns:
To get into a relaxed state of mind long nightgowns are Perfect ideas for bedtime bliss. During these #lockdown stage people spending their time at home, so it's time to choose your best loungewear. Slip into a long butter-soft nighty for a comfortable experience. The soft and sustainable skin-friendly fabric gives you comfort all day round. Pick your sleep gowns option from a variety of collections that are available online and redecorate your wardrobe.
Loungewear Kaftan:
The kaftan dress is the combination of style and comforts with a modern fashion flare. The one-piece kaftan dress designs to suit your feminine mood. Perfectly worn all day long or best for nightwear. During your homestay, the soft and comfy fabrics keep you relaxed. The loungewear is available in various shades with stunning hand block printing, attractive neckline, and adjustable waistline, the charm of this dress is simply alluring. Kaftan is a must-have in the wardrobe of all the beautiful ladies of the world.
3 Pieces Loungewear Suits:
This perfect versatile wear is artistically designed for your everyday wearable fashion. Matching loose fitted pants with side pockets combine with a strappy sleeveless top and V-neck sheer jackets are trending. A perfect blend of luxury with comfort grab the style statement of loungewear these days. Various range of designs is available online to compliment you. Carry this style statement during this isolation phase.
Jumpers and Joggers Loungewear Set:
The best loungewear that depends on what your activities are. Chill out in style with a pair of gorgeous knit jumpers and joggers. Nowadays, most of us work from home. It looks too good to carry it. jumpers and the matching pants feature a narrow or wide-leg silhouette and elasticized waist that gives a high level of comfort for long wear. The relaxed texture fabric or soft jersey material is skin-friendly that keeps you cool and comfy. The fashionable jumpers and joggers loungewear is good for your self-love and satisfying sleep.
---
So Divas! choose your loungewear for a comfortable stay all day long, for a relaxed evening to work from home, listening to music or chatting with friends, boost your self-love passion, and enjoy.