Hey Divas! The way we feel looks good no matter what is to retain a healthy body & skin. We are more conscious to look real and nourished. Those who have a blessed body are lucky, but people like me have to follow a proper skin routine. Most of us try to maintain a healthy face and neck, the rest we treat casually! Here, we have chosen the 22 best body products from Amazon that will heal your skin worries.
Maybe the reasons behind neglecting skin are- laziness, inaccessible products, or product awareness. It depends on how we treat our bodies. After all, bodies require a higher volume of product than faces, which means availability of the product is vital. However, the reasonable option is to buy online! Don't neglect your body, and understand your beauty routine for healthy & glowing skin. First of all, know your body type. It might be dry skin, acne, eczema, pale skin, tan skin, blemish, oily, sensitive skin. Don't rush for blunders, buy cult products that your body actually requires. Spending bucks without knowing your skin is not desirable. According to bongdiva.com, a product that reveals positive results is essential in your beauty list.
---
Cetaphil Ultra Gentle Body Wash:
Cetaphil Ultra Gentle is a fragrance-free body wash, which is gentle for sensitive skin that's prone to feeling dry and itchy. Hence, treat your body like your beautiful face.
---
MCaffeine Naked & Raw Coffee Body Scrub:
Give your body a good scrub with this exfoliating powder. The hydrating tan removal body scrub for oily to normal skin. It works deeply and regulates blood flow and prevents premature aging. 
---
Brillare Happiness Body Serum:
For Healthiest Skin Brillare body serum gives deep nourishment and elevates your mood. The organic ingredients keep your skin fresh and healthy.
---
Neutrogena Body Clear Body Wash Pink Grapefruit: 
The deep cleanser works without over-drying your skin. Suitable for acne-prone skin and contains 1% salicylic acid, which helps prevent clogging from oil and bacteria. Anyway, no surprise that Neutrogena body wash is just as effective.
---
Aveeno Skin Relief Moisturizing Lotion:
The moisturizer is a fast-absorbing body lotion formulated with active natural triple oat complexes with oat oil and natural shea butter. Aveeno Skin Relief lotion is favorable for extra-dry and sensitive skin.
---
Dermafique Dermatologist Tested Intensive Restore Body Serum for Dry Skin:
The ultra-sheer Serum is enriched with 10x Vitamin E to give parched skin a rise in moisture. It will boost suppleness, nourish and hydrate your skin. This day body serum corrects cell damage and protects from harsh UV rays.
---
Brooklyn Botany- Blueberry Scrub For anti-aging & Exfoliation: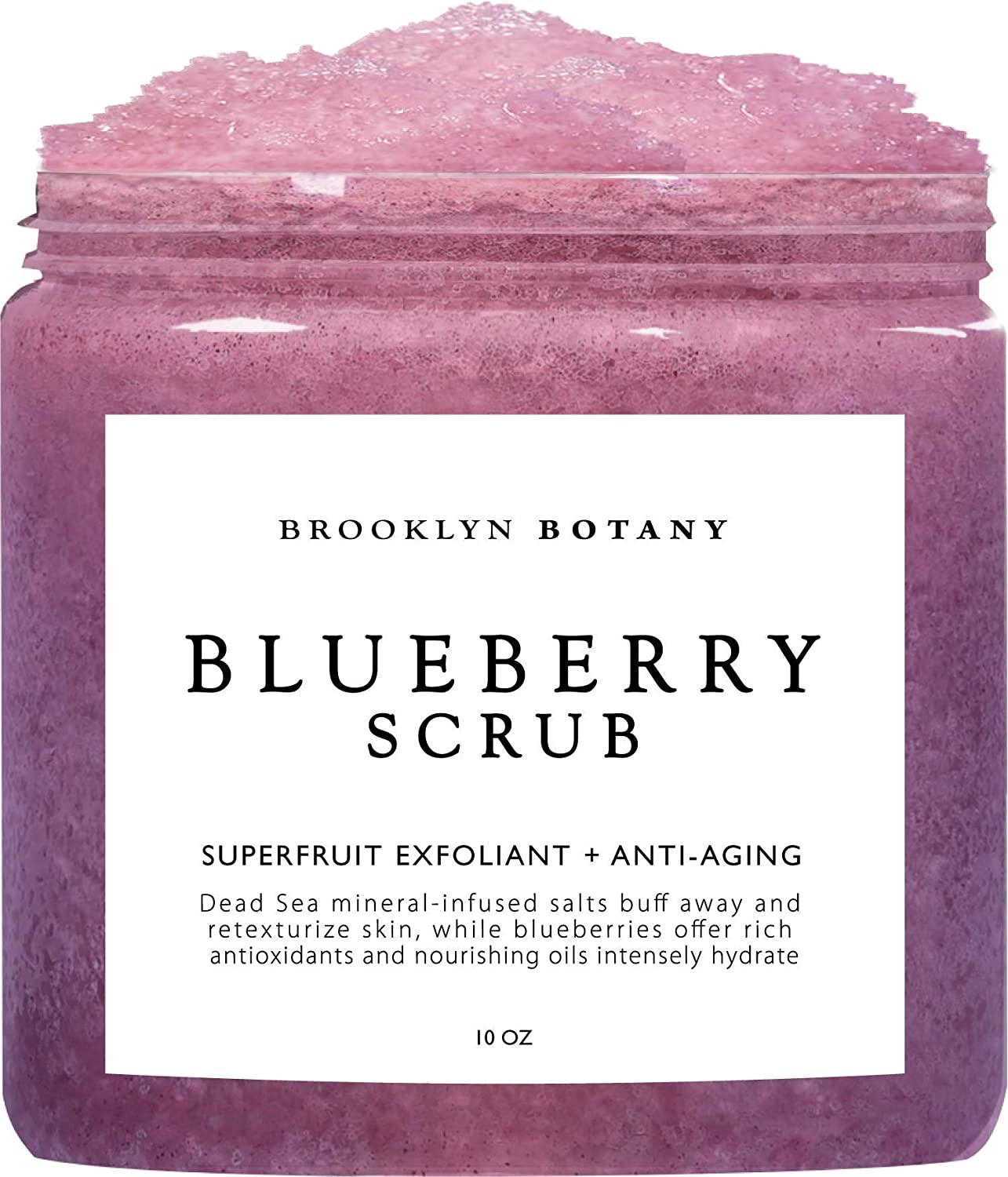 This Blueberry scrub will make you feel alive, great for skin lightening, acne scars, spider veins, stretch marks, and reduce fine lines. Vitamin C preserved in blueberries helps strengthen the blood vessels. Thus, your skin will glow more than ever before!
---
Moroccanoil Shimmering Body Oil:
Want to add some glitter with the goodness of pure ingredients! Try Moroccanoil Body Shimmering Oil for healthy-looking radiance skin. Rapidly infuses skin with a deeply nourishing blend of antioxidant-rich argan oil and sesame oil. It will pamper your body with a pleasant fragrance.
---
SheaMoisture Coconut & Hibiscus Hand/Body Scrub:
If you desire an even tone of skin then try this organic body scrub. The SheaMoisture hand & body scrub is just a lust-buy. The scrub improved skin brightness, firmness, and dullness. Shea Butter, Coconut Oil, and sweet Hibiscus hydrate your body.
---
Josie Maran- Whipped Argan Oil Body Butter:
Whipped Argan Oil Ultra-Hydrating Body Butter Sweet Citrus is a thick body butter that works firmly on your body. The cream moisturizes your skin without leaving grease stains on your robe.
---
Eucerin- Eczema Relief Cream Body Lotion:
Eucerin Eczema Relief Cream Body Lotion Gentle Clean for Eczema-prone Skin. It can help to reduce the irritation and itching typically caused by bathing. Eucerin developed this body cream for sufferers of eczema, especially for the most sensitive skin to be both healing and effective.
---
Bio-Oil:
Bio-Oil helps to improve the impression of uneven skin tone, caused by hormonal changes, overexposure to UV radiation. The Bio-Oil formulation combines plant extracts and vitamins that heal stretch marks and uneven skin tone. It also helps smooth and tone aging & wrinkled skin on both the face and body.
---
Malin + Goetz Vitamin B5 Body Lotion:
The long-lasting cream quickly absorbs and hydrates skin. The lightweight moisturizer contains the goodness of avocado, grapeseed oil  & Vitamin B5. If you want a soft hydrating body try this. 
The Body Shop 100% Natural Shea Butter:
This pure shea butter intensely nourishes dry and sensitive skin. Once it melts on your body, you'll be silky and moisturized for days. This iconic Body Butter is now even richer with shea nuts. Natural shea butter is 100% natural and replenishes your body with moisture.
---
L'Occitane Nourishing Almond Milk Concentrate:
Looking for skin! Try L'Occitane Nourishing Almond Milk massaging cream. The Almond Milk Concentrate melts into the skin in a creamy and glossy texture, to comfort the skin to look more hydrated.
---
DONNA CHANG Alluring Gardenia Hand & Body Serum:
Alluring Gardenia hand & body serum gives a stable lift to your body. The richness of almond oil, shea butter, sesame oil, rice bran oil, ginseng extract, royal jelly & vitamins perfectly hydrates your skin.
---
Weleda Skin Food Light Nourishing Cream:
Weleda Skin Food Light Nourishing holds a capacity of 2.5 Oz. This ultra-rich cream comes with moisturizing and remedy properties and for a better result apply it post-shower. An organic blend of chamomile & calendula boosts your skin balance. 
---
Dr. Bronner'S Pure Castile Bar Soap (Tea Tree):
The effective Castile bar soap is a completely biodegradable and vegetable-based product. However, the three-in-one vegan soap gently washes the body, face, and hair. This nourishing body bar contains organic coconut oil, palm oil, jojoba, and olive oils.
---
Acqua Di Parma Acqua di Parma Colonia Body Cream:
If you want to lift your body with comfortable creamy soft skin try this! A body cream with the goodness of avocado oil, aloe vera extract & vitamin E for hydration & protection. The Bulgarian rose, citrus fruits, lavender, sandalwood & verbena fragrance mesmerize your skin.
---
Grown Alchemist- Purifying Body Exfoliant:
For the removal of dead skin and deep cleaning choose Grown Alchemist exfoliant. However, This revitalizing body exfoliant is created with nutrients & an antioxidant-rich blend of botanical & pearl bioactive ingredients for softening your skin. Feel the magic of nutrition and the freshness of your body.
---
Herbivore Botanicals- All Natural Coco Rose Body Polish/Sugar Scrub:
Experience the deep exfoliation with the chemical-free Vegan ingredients. Virgin Coconut Oil & Delicately Floral Bulgarian Rose leaves your skin velvety soft & hydrated. A mild fragrance of coconut and rose fascinates your mood day long.
---
CeraVe Moisturizing Cream:
The non-greasy moisturizing cream lasts long and works well on dry skin. Hyaluronic acid helps retain natural moisturizer, and maintain harmonious skin nutrients. Consequently, your skin looks healthier and more hydrated.
---
Hey Diva! It's important to pamper our skin for a healthy and refreshing body. Unfortunately, sometimes we skip or are lazy to maintain a routine. The basic rules that we should follow- cleaning, scrubbing, and moisturizing. Let's start some good practice to take care of the base, and give some time to heal it!
• Image Credits: Amazon & Respective Brands.