The rainy season brings happiness or sometimes it gives trouble but we can't ignore it. Watching raindrops from the window and eating dumplings with hot tea or coffee is awesome. Meanwhile, we all enjoy the rain. Sometimes we are confused about choosing good make-up during the monsoon. If you are a lazy person like me then use this 5 minimum all-time waterproof makeup range. It really works well for a long period without any touch-up.
Five monsoon makeup kits that I use almost every time while going out. So friends, before buying makeup products know your skin type. Always apply moisturizer or skin serum before using your makeup.
L'Oreal Paris Infallible Shaping Stick Foundation:
I
have been using the foundation stick for more than one year as base makeup. It gives long-lasting coverage without any touch-up. The creamy glide-on formula of the sticks spread into the skin, and provides weightless, flawless, that evenly covers. The multi-use sticks are available in 12 shades to conceal, cover, contour, and highlight features. L'Oreal Paris Infallible Shaping Stick enhances your defined look that lasts all day and night. It lasts up to 24 hours and is quite water-resistant. This season try this monsoon makeup base to look natural.
L'Oreal Paris' Pro-Matte Powder:
T
he compact face powder absorbs excess oil and balances the glow on the skin's surface all day. The lightweight powder can be used directly on the skin, or with a matte foundation for a sculpted look. This pressed powder is easy to apply and long-lasting. I do not need a frequent touch-up with this product.
Maybelline New York Fashion Brow Cream Pencil: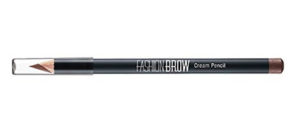 I
use the brown shade eyebrow pencil. This is creamy and properly bendable with its first application. This is long-lasting for up to 12 hours. These fill, shape, and blend with complete heatproof, waterproof as a result. The cream pencil gives impressive and natural-looking eyebrows.
Maybelline New York's Colossal Volume Express Mascara:
T
he mascara volumized look in just one coat of applications. The volume pumping formula contains collagen and the mega brush instantly achieves 9x the volume, all without any clumps. This mascara is waterproof and easily removed with makeup remover. This is suitable for contact lens wearers also.
SUGAR Matte As Hell Crayon Lipstick:
M
y friends suggested trying this lipstick and it's really nice, super long-lasting, and highly pigmented. The crayon Lipsticks are available in 36 beautiful shades to suit your persona. The crayon lip colors have a soft texture with a creamy matt finish. It's totally waterproof, smudge-proof and there is no need to re-apply.
Always remove makeup properly and apply a good moisturizer that nourishes your skin.
Product Image Credits: Amazon & Respective Brands.