The air breeze, the sunshine, the flowers blossom when we feel the magic in nature. Say hello to Spring with the nine yards. A wonderful hint of how beautiful change can truly be. The March wind is the morning yawn, the arrival of the new beginning is perfect to enjoy Fashion & Lifestyle. The season brings new happiness in life, and a great mood to buy fresh stuff. We feel charged up to buy new clothes or decorate our houses.

The Artisans Weave:
This time I am celebrating the season of Spring with my traditional integrity. I had brought a beautiful saree from the house of Bengal heritage. One of my favorite woven handloom cotton. The tant saree or tangail originates from the region in the eastern part of the Indian subcontinent. As a bong, I am crazy for sarees. A large number of people of Bengal are connected with this profession. This is the famous age-old crafting of Bengal. The artisans weave the vegetable-dyed cotton threads as woven tant sarees. Two shuttles are used for this purpose. The old handloom process is now replaced by the new technique of power looms or artificial loom.

Signature Handlooms:
The richness of Bengal and the old heritage always attract me. As a bong, the graceful fashion and mesmerizing art & culture of Bengal rooted me. I feel more In skin whenever I wear a saree. I prefer more signature handlooms apart from power looms. The soft and starch-free sarees are easy to handle. Spring is the perfect time to celebrate fresh fashion. Meanwhile, it's great to grab an ensemble. Adding to your wardrobe or gifting your buddies.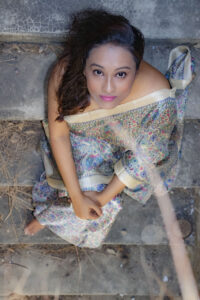 Bengal Patachitra Design:
Iam quite fascinated with my saree wardrobe. Still, it's my hobby to collect elegant sarees from different regions. This saree I am wearing with multiple colors which are reflecting my happy and colorful mood. This is a saree I bought from a small house in West Bengal, India. I feel the concept #vocalforlocal and #supportlocalbussiness. Nothing beats the nine yards of comfort. Those who wear sarees can understand these sentiments. The artistic culture of Bengal represents richness in fashion & lifestyle. Weavers from all over Bengal have unique designs that reflect their lifestyle and design. My tangail saree has a unique touch of Bengal Patachitra. I like this artwork with multi-color motifs of fish & floral designs. The classic Bengal saree with an eternal touch of folk painting is nevertheless an eyecatcher.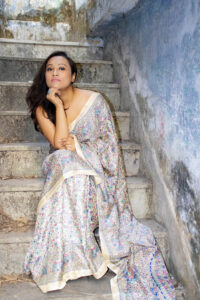 ---
Say hello to spring and pop up your bong diva style like me. Choose your saree affair with Bengal weavers and support small tangail artists. Buy sarees from small houses of Bengal to appreciate their creativity. They have an enormous range of attractive sarees. So Divas! Create your fashion statements with the killer drape of nine-yard.