We are in the mood for a new normal, and traveling is the best option to start positive vibes. It's been a while since I made this trip to Haflong post lockdown. Haflong is known as white ant Hillock, which is situated 310 km from Guwahati. I wanted to hang out there for two days, so I decided to explore the landscape, valleys, and mountains. Haflong is quite a wonderful place for a holiday in North East India. The tranquil ambiance, rich wildlife rolling hills fascinates me. Simply, I loved the place and enjoyed it a lot. So, friends, you can plan your trip to explore the scenic beauty of Haflong.
Enchanting Nature: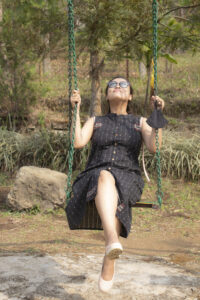 Nowadays domestic travel is booming because of this pandemic situation, people like me want to escape from city life, and discover peace in nature. Mostly, unplanned trips attract me. A trip to Haflong was a good idea for the holidays. This is why I chose Dima Hasao District in Haflong. It is indeed a delight for nature lovers and an excellent place for weary souls. This place is surrounded by green rolling hills and mesmerizing panoramic beauty. There are fewer accommodations in Haflong, hotels like the Landmark hotel, Nhoshring guest house, Nothao Lodge, Lakeside resorts, etc are easy to reach and budget-friendly. Those who want to take a break from enchanting nature must visit Haflong. You can travel solo or with your friends and family. Honestly, the people of Assam serve you their best hospitality you may never find elsewhere.
Exploring Nature Boost My Inner Soul:
I am not a travel blogger, but of course, I enjoy traveling. That's the reason I am sharing my experience with you guys. Staying at home for the whole year is quite challenging for all of us. I found this short trip is the best break from the lockdown ever. Staying with minimum and exploring nature boost my inner soul. A fresh and positive vibe is essential for self-love. Chilling out with delicious food & drinks, fresh air and less crowded Lanes with comfortable long drives make my trip completed. However, Trekking and paragliding are also good options for adventure lovers.
Some of the places to visit in Haflong are Circuit House, Haflong Lake, Borail Range, Orchid Garden, Ethnic Village. One of the sightseer spots is Jatinga located in Haflong which is famous for the phenomenon of bird suicide point. The architecture reflects the British colonial past. However, People also visited Maibong which was one of the capitals of the Dimasa Kachari Kingdom. There is a famous stone house of the Dimasa king. The essence of India is incredible, we have different cultures, historic places that we love to explore.
The trip to Haflong post lockdown was a good decision. The brilliant experience from this trip that I will never forget. I came back so reenergized. I had such lovely pics from my Haflong trip that I wished to share with you all. Get out of your worn-out life and enjoy nature. Hope you guys enjoy it while reading and must visit the tranquil ambiance, the valley, and mountains.