22 types of denim are popular among us. No matter what!  All we want is a different pair of jeans for a good style statement. Denim wear rules the trend for decades. The jeans look never go wrong. As per fashion-driven crazy, we try to wear various types of denim jeans that suit our style and are available easily. Every fashion designer studies the denim weaving process, types, and classification in detail. I studied this topic in brief, and now I am sharing it through my article.
In the weaving process, the cotton twill fabric where weft threads pass under two or more warp threads dyed in indigo, while weft threads remained white that gave denim blue color on the one side and white on another side.
D
enim jeans never go out of trend, we love to wear casual and relaxed denim. Style meets durable wear invented in the 1800s and there is still debate over denim. The material was used for workwear, cowboys, miners, rail workers, laborers. This iconic clothing has made history, later adopted by Hollywood legends, counterculture rebels, rock stars, tomboys, and high fashion alike over the last centuries. Meanwhile, now all we love to wear is denim Jeans for comfortable styling. The classic denim attire was patented by a tailor Jacob W. Davis in the year 1873, and Levi Strauss the owner of a wholesale fabric house in San Francisco. Denim is a long-lasting and durable material that is why they used it as workwear for people.
The Word "Denim":
The word "denim" comes from French "Serge de Nîmes". The weavers of Nimes in France produce cotton corduroy that was popularly made in Genoa, Italy. Later, with lots of trials, they reproduce another twill fabric called denim. In those days denim materials were used to make jeans pants and trousers, but later fashion designers experimented with various ways of designing dresses, shirts, tops, skirts, gowns, jumpsuits, shots, etc.
Some more records from the past which were related to India are quite interesting. From ancient times, Indigo in India was made from the plant Indigofera tinctoria which was used for coloring the denim material, it is an organic dye with a distinctive blue color. Indigo dye was used on cotton because it was the simplest method of coloring. Due to natural dye, the color slowly fades, but that was a popular method of coloring. Indigo was imported to Egypt, Greece, Britain, Rome, Japan, China, Mexico, American, Peru, Iran, and Africa from India. Even indigo plants were exported to provinces. Organic Indigo was used until the invention of synthetic indigo in the late 19th century. Later artificial dye replaced natural processes.
In the weaving process, the cotton twill fabric where weft threads pass under two or more warp threads dyed in indigo, while weft threads remained white that gave denim blue color on the one side and white on another side.
Classic Denim:
Classic denim was the most popular for decades, which was used for workwear. Nowadays, people love to wear this style for a casual outing. The relaxed-fit denim is a good option to carry all day long. The denim is easy to fit at the waist, contoured fit at thigh, and falls straight from knee to ankle. Everyone likes classic denim for regular wear. A decent white shirt never goes wrong with classic denim.
Best Vintage-Inspired Jeans:
Every girl has one pair of vintage denim in their closet. The jeans' excellent variation of colors, high rise, straight leg, and medium wash, come in different lengths. Vintage Levi's from Re/Done is quite good. The comfortable pair of vintage-inspired jeans is a Trend Setter. Its Crawford style is inspired by Cindy's favorite pair from the 1990s.
Skinny Jeans:
The skinny stretchable jeans are quite fashionable and comfortable to carry. The Denim is crafted in stretch cotton for a better fit and enhanced with five pockets, zip, and metal top button. A crop top or a casual tee look classy with skinny denim. sneakers. However, oversize tops or chose your own style statement to look gorgeous. Kate Middleton has been spotted wearing skinny jeans with her eternal look.
Wide Leg Denim:
The style was inspired by the 1940s era when first-time women's trousers were introduced for workwear. Wide-leg jeans come with a high waist or low waist option. These jeans are proper fits from the waist and end with a wide and stunning flare towards the hemline. The types of denim are available in various colors and designs. Jeans are fashionable to wear with crop tops, body-hugging, or shirts that tuck properly. Loose wide-leg jeans look good with fitting tops.
High Waist Jeans:
The skinny fit High-Rise stretchable denim looks stunning for comfortable wear. Those who have a great body must have one pair of high waist denim. For an irreplaceable look, the jeans must try with loose drop shoulder tops or balloon sleeve tops. Choose your own style statement with some solid shade of stunning Stilettos.
Best Curve Jeans:
Best curve jeans are for those who love body curves to flaunt. A pair of curve-hugging mid-rise denim and subtly faded wash with five pockets, metallic button and zip give comfort for an everyday look. The ultimate diva gaze and remarkable styles show the inner vibe of styling. This kind of denim looks fashionable with biker jackets, oversize crop blouses, funky tops, and enhance the look of lightweight silver jewelry is a good option.
Ripped and Distressed Denim:
The craze to wear ripped and distressed jeans for a cool look. Teenagers show off their ripped denim at any tag price. These torn jeans are available in different collections such as skinny fit or a regular pair of denim, baggy style or unisex jeans enhance with high rise waistband, mid-rise or low waist fit with five pockets, or a variety of styling. The fashion is popular among men and women, ripped denim is just like swag meets hi-end fashion. They were popular in the 1980s during the heavy metal era and the trends continue through the 1990s and 2000s grunge era, and still now in the 2020s, the crazes continue. So divas! Discover good brands and comfortable fit while choosing your exclusive pair of ripped jeans.
Boyfriend Jeans:
Boyfriend jeans sound a little masculine or baggy, but It is much more relaxed to wear than skinny fit. The first blue jeans were created in 1873 since then different types of cuts and looks have been experimenting on them. Marilyn Monroe brought the craze in the 1960s when she was spotted on the set of her film The Misfits. She was wearing loose-fitted boyfriend pants with her grace. A decade later, boyfriend jeans again in fashion when Katie Holmes appeared with her baggy-fit jeans. Later the craze continued when celebs were seen wearing boyfriend jeans like Sarah Jessica Parker, Jennifer Lawrence, Rehana, Gigi Hadid. These jeans are much more comfortable for day-long wear, baggy, regular fit, plus size, hi-waist, mid-rise and slimmer versions of denim are also available.
Plus Size Jeans:
Size never matters in fashion either a zero size or a plus size, love your body curve with confidence. It is just an oversize body measurement for those who look gorgeous and follow the trend like everyone. The large-size fashion began in the early 1900s. Nowadays, various choices and types of attire are available for large-size people. Plus size skinny jeans for those who love to flaunt curves with comfort. Regular fit, classic denim, boyfriend's denim, torn jeans, vintage jeans, and many more styles are available. So divas! Choose your style range that suits your comfort level.
Palazzo Leg Jeans:
Palazzo jeans inspired by the 1970s retro look. The extremely wide leg that flares out from the waist, relaxed non-stretchable pants with high-rise elastic waistline, or waistband with loop both are available with pockets, button, zip. Wear your palazzo denim with stylish tucked-in sweatshirts, the wide-led silhouette looks smart with body-hugging tees or fitted tops. The loose-fitting denim is quite comfortable for your relaxing legs in hot weather. Tall people choose palazzo jeans to look glamorous and flaunt their height. Celebs like Jennifer Lopez, Victoria Beckham, Margot Robbie, Olivia Munn, Salena Gomez are also spotted wearing palazzo jeans.
Straight Leg Jeans:
Straight-leg or regular fit jeans are available in various styles such as wash look, ripped and distressed, vintage look, etc. The comfortable waistline and fits have a high-rise, mid-waist, and low waist belts are also in fashion. The denim has a straight cut from hip to ankle with a little frayed hemline. Straight-leg jeans show a casual everyday look. So divas! flaunt your versatile impression with straight-leg jeans pair with beautiful tops, jackets, tees, long kurtas, and lightweight accessories.
Balloon Leg Jeans: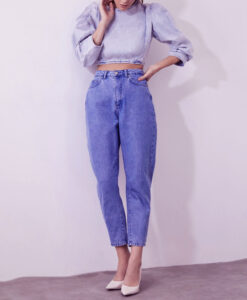 Balloon jeans have a loose leg that is tapered at the ankle. The balloon-shaped jeans were inspired by 1980s and early 1990s fashion. Brands like Levi Strauss & co have a variety of options like mid-rise or high-waist fit, loose non-stretchable with narrow ankle, faded wash denim or distress, whitewash, wash prints, or accessorized the look with button closure at waist and zip. In High-Street fashion, the denim looks cool and smart for those who want a baggy look or hide lean legs. Balloon jeans with vibrant hues or solid printed casuals crop tops, body-hugging tops, basic T-shirts, jackets look great. However, carry bold stilettos or pointed heels to beat the heat.
Ankle-Length Denim:
Fashionable people love to wear ankle-length denim in their wardrobe. The denim rules the decade for its comfort and body-hugging style. This type of Denim looks awesome with casual tops, semi-casual tees, mix-n-match kurtas, to complete your style with stilettos, ballerinas, leather boots, or sneakers. Faded ankle-length style or ripped ankle-length denim with five pockets, button and zip closure, a waistband with loops show a clean and standout look for divas.
Dad Jeans:
Mid blue washed or ripped loss fitted and non-stretchable dad jeans look rocking for hangouts, night out, parties. The 1950s retro look dad jeans have become popular among youngsters several times. The washed denim look is inspired by middle-aged American men famous as dad denim. Dad jeans have five-pocket, button and zip, loose fitted high waistband, low crotch shows shapeless style. Those who want to set their own trend with the rebel look can follow this style statement.
Tomcat Jeans:
Tomcat jeans are booming among youngsters and ladies. The huge craze is to wear these jeans with attitude and glamour. Tomboy, hippies, rebels, everyone is promoting this trend. These jeans are stretchable with a proper fitting on the waistline, skinny but straight leg, slimming look, and comfortable styling. Tomcat jeans are available in different shades such as dark shades, washout, torn, distress, etc. Women love to wear tomcat jeans with dazzling tops, tees, jackets, and funky accessories. A bold stiletto with tomcat denim is a nice option for a complete look.
Boot-Cut Denim:
The era of counterculture 1960s style boot-cut jeans was quite famous among people. Snug fit with fitted high-rise waistband, slim fit hips, wider from thighs or ankle, unfinished broad hemlines of the jeans looked amazing. Later, slimmer boot cut also became a game-changer in fashion. The modern boot-cut jeans are longer to cover the boots. Designs are available in the faded wash, light, and dark shades, torn look, patched works style, panel stitched, and many more styles for fashion lovers.
Camille Pleated:
Pleated pants were popular before world war 2. The pleats are the folds by doubling the fabric to create an impressive look. Those days in the 1980s stonewash baggy pleated jeans with high waistbands and narrowed ankles were quite famous. Nowadays in the 2020s, celeb Rebecca Taylor wore pleated loose denim for a standout look. The pleated jeans patterns in loose baggy fit or wide-leg non-stretch shape with high-rise waistline are trending. This Camille pleated denim can look stylish with a paracord bracelet or multi-color bangles. Faded, whitewash, torn, and ripped, dark shades are also available. Fashion designers are always experimenting with cuts and variations in styling.
Cigarette Jeans:
Cigarette jeans are inspired by cigarette pants of the 1950s style. The normal pants were slim fitting with no loops belt, higher crotch, flat front. Nowadays cigarette jeans are quite popular among men and women. With the period of time lots of variation seen in the pattern. Cigarette denim is snugly fit through the legs, high-waist, mid-waist, and low-waistbands with loops, zip, button closure. The ankle-length narrow-fit stretchable denim is slightly cut from the ankle and it looks like a cigarette. The hottest attire is popular among people. Formal and casual look good with this denim. Loafers shoes, ballerinas, or stilettos can try out with jeans for complete styling.
Sailor Jeans:
American sailors wore bell-bottom pants as workwear in the 19th century. Bell-bottom pants or Sailor jeans were popular between the 1960s and 1970s. High waistband with a body-hugging fit from waist to knees, slightly loose thighs, and flared hemline including pockets, button and zip look fashionable. The denim pants steal the deal with formal and casual T-shirts, crop tops, tank tops, etc. Different types of washout tones, solid colors, patch hues are available in sailor jeans.
Joggers Denim: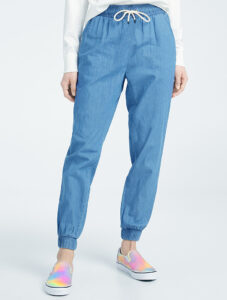 Joggers denim was inspired by the track pants of 1990s fashion. Baggy jeans with fitted elastic above the ankle look sporty. The waistband with loops or drawstring waist both fit flexible with five-pocket mid-rise jeans with button and zip closure. Treat yourself to a comfortable pair of joggers jeans for a casual personality. These pants look cool with simple tees and sneakers for a relaxing evening walk, hangouts with friends. It all depends on your mood to dazzle. The hot jeans are available in a stonewashed look, distressed, wrinkled style, solid colors, etc.
High-rise Flare Leg Jeans:
Flare leg jeans are inspired by the bell-buttons style and worn by rockstars, hippies. Celebs like Hillary Duff, Sofia Vergara, Nicole Richie were spotted wearing flared leg jeans. The flexible jeans with a good fit, narrowed at the knees and wider hemline look fashionable. Flare leg denim with a high-rise waist, pockets, zip, and button closure looks fine for jamming, hangouts, vacations. So divas! wear this style to re-create a retro throwback vibe of the 70s. To complete your own style statement you must try some silver lightweight accessories.
Jeggings Denim:
The jeans are perfect for everyday styling, for those who want to flaunt shapes and curves confidently. The denim is skinny fit and extremely stretchable with pockets, zip, and button closure. In the late 2000s, jeggings denim was introduced. Jeggings are made of soft denim and also soft stretchy nylon PV1 fabric is used. Wash denim look, crinkled look, solid shades, printed looks, etc are available. These jeggings jeans look awesome with oversized shirts, loose crop tops, baggy tees, long kurtas with mix-n-match silver accessories.
---
We love jeans for a carefree personality to swing high in style. Denim Jeans trending from the workwear era to the symbol of youth rebellion to fashion icon every phase people loved denim. The denim craze never fades out of fashion. The American Culture rules the decade from the rebellious torn jeans to washout style, the rock 'n' roll styling to patched blue jeans, retro bell-bottoms to boyfriends denim. Youth appreciates every style in denim wear. Fashion remains the same but style changes through the years. Denim lovers wear it for comfort all season long. So divas! Choose your denim jeans for a relaxing mood. Hope you guys enjoyed this article while reading.