Natural Organic personal care products are always better than chemical harsh products for ageless beauty. The world's oldest system of health and beauty care is known as Ayurveda. Natural ingredients are always good for glowing skin. Here I have chosen 10 Ayurvedic skincare Indian brands that naturally protect your flawless beauty. Organic gifts facilities are also available with these brands.
Forest Essentials:
F
orest Essentials is an authentic and traditional skincare brand that follows an ancient scientist. The organic Luxurious Ayurvedic beauty brand inspired by ancient Ayurveda with a modern aesthetic for better results. Forest Essentials products are available in categories for Facial care, Body care, Haircare, Wellness, Baby care products.
Forest Essential dedicates the rich knowledge and heritage of India through their organic, pure, fresh, and natural products.
The products are certified by the Ministry of AYUSH and the products are 100% herbal. They use natural ingredients from different parts of India.
They customize products for their client according to needs and preferences.
The products are cruelty-free, non-toxic, paraben-free, unadulterated without the use of chemical and synthetic fragrances.
Khadi Natural Health Care:
T
he quintessential Indian beauty brand that blends the ancient science of Ayurveda with modern facilities. The brand provides the highest degree of pure, standardized & quality-oriented beauty and wellness products. According to them, they export all around the world's 25 Countries with above 50 authorized sellers and distributors.
They provide a wide range of herbal Ayurvedic handmade products, which are made up of purely organic elements derived from nature.
The exclusive products are available in Skincare, Haircare, Body care, Aroma Therapy, Sun Shield range and Gift combos, and Hygiene care. Their goal is to create a natural product for customer satisfaction at a pocket-friendly price.
Khadi Natural handmade products are created under the guidance of qualified Ayurveda Doctors by using natural ingredients.
The herbal products are pure and natural, paraben-free, non-toxic, tested against harmful reactants, and Certified with ISO, WHO, GMP.
Kama Ayurveda:
K
ama Ayurveda is an Indian brand that includes a highly effective organic range of products that suits different hair and skin types. This brand is inspired by the ancient science of Ayurvedic healing. Karma Ayurveda uses pure and organic herbs for beauty products. The herbal Kama products contain purity, nutritive, and balancing properties necessary to nurture the skin and for eternal beauty.
The products are free of artificial colors, fragrances, talc, petrochemicals, and paraben-free, they are against animal testing.
Kama Ayurveda launched nine ayurvedic treatments in partnership with Arya Vaidya Pharmacy in Coimbatore, Tamil Nadu. These effective measures were developed to benefit skin and hair concerns.
Soulflower:
S
oulflower is a premium Ayurvedic personal care brand, they obtain pure and natural herbs to elevate beauty. Ayurvedic beauty products are Inspired by mother nature. The skincare, Haircare, Home, and Aroma range of products are available in the market. Their expertise in botanical chemistry and dermatology motivates them to choose natural ingredients or beauty products.
The essential composition of natural herbs maintains a balance between glow and healthy skin.
The Soullower herbal products are pure and vegan, cruelty-free, and certified by ISO mark.
Organic Harvest: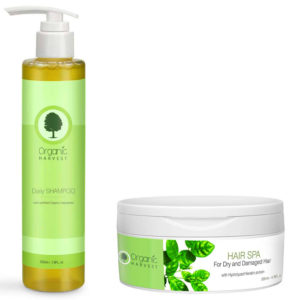 A
n authentic and natural skincare brand that delivers chemical-free organic products. The brand deals in personal care products to expand the concept of safe and glowing skin. Natural and organic products blend important minerals, vitamins, and extracts that help to revive the skin. The products range available in skincare, haircare, body care range, and essential oils.
The wide range of organic products is earth-friendly and no synthetic and harmful ingredients are used. Organic Harvest products are ISO certified, vegan, gluten-free, and cruelty-free.
Skin Yoga:
A
Natural Luxury Skincare brand which is selling products worldwide. The brand contains Ayurvedic vegan products that are safe and easy to use. In the beauty revolution, people are more aware of natural and organic products. Skin Yoga provides ingredients that are natural and organic. The chemical-free mild skincare products that suit the skin.
They categorized skin detox programs and masterclass for their clients to personalized skincare routine as per need and lifestyle.
Through their programs, skin experts help to create DIY and personalized products to support customer preference.
Just Herbs:
J
ust herbs is an Indian luxury brand that deals with beauty care. Their products are organic, safe, and healthy for skin routine. The herbal brand products range in Skincare, Haircare, Bath and body, Trial kits, Gift packs, Organic lipsticks. They use an ancient Indian plant-based healing system and Ayurvedic formulations for their natural skincare products.
The products are certified 100% Ayurvedic by AYUSH (Govt. of India).
The company is certified by PETA. Their products are cruelty-free, not tested on animals, Parabens free, vegan products, and no harmful synthetic ingredients are used.
Neemli:
N
eemli Naturals skincare products are safe, organic, and environmentally friendly. Their products are based on ancient Ayurveda and modern botanical recipes to create beauty formulations. They use plant and earth-based formulas that effectively work to enhance beauty naturally. The series of Neemli Naturals products available in Bath and body, Facial care, Haircare, dehydrated products, Gift sets, etc.
The herbal brand contains natural ingredients plant-based food-grade, natural essential oils Eco-certified organic Ingredients with reusable packaging.
The Ayurvedic products are vegan, paraben-free, phthalate-free, cruelty-free, no fillers, and chemicals are used.
Juicy Chemistry:
T
he Indian organic brand deals with an effective beauty range. The ingredients formulation with natural and pure expertise. They use exotic and premium ingredients like essential oils, organic herbs, botanical nutrients for skin health. The brand contains products like body care, hair care, aromatherapy, and handmade beauty accessories are also available.
The products are vegan, cruelty-free, freshly made, biodegradable products, reusable packaging, no harmful chemicals are used, and the products are certified under ECOCERT(France).
Biotique:
T
he Ayurvedic brand chose the Indian heritage of organic recipes that combines with excellent advanced scientific expertise. A huge range of natural products is available in Skincare, hair and body care, natural makeup ranges, baby care, men's sections, wellness products, etc. Boutique organic ingredients are cultivated and blended naturally in the foothills of the Himalayas.
The products are organically pure, authentic, vegan, cruelty-free, no chemically preserved, and against animal testing.
Collected from organically grown real plant extracts, Biotique products are made to EEC and FDA standards.


---

• Image Credits: Amazon & Respective Brands.