The story of a Traditional Banarasi saree:
Every woman loves to wear a beautiful Banarasi saree, no matter what your age and how you look. Banarasi sarees are worn by Indian women at their weddings or traditional occasions. In India, we have a rich culture and heritage. The traditional Banarasi saree reflects our ancient culture and civilization.
I am a Bengali and love to wear a saree occasionally. I have seen my mom and grandma talking about sarees. Bengalis love to wear Banarasi at their wedding. Every Bengali has a fascinating Saree story. This time, break the stereotype rules and wear a fashionable lightweight Banarasi on other rituals also.
My granny's Banarasi saree:
O
nce my granny told me about her 65 years old wedding Banarasi saree. The saree was customized into pure silk (Karan), and zari(brocade) was made of real gold and silver. Due to low maintenance, I had seen that sari in a damaged condition. Later my granny sold her gold zari for a good value. ​​
Little History:
B
anarasi sarees have an interesting story. The sarees are made in Varanasi (Banaras), an ancient city of Uttar Pradesh, India. The city is called the land of Lord Shiva. Many silk artisans migrated from Gujarat to Varanasi due to starvation in 1603, it is likely that silk brocade weaving began then. The silk(Katan) and brocade intertwining started in Varanasi in the 17th century. The weaving expanded in excellence during the 18th and 19th centuries.
How to check authentic Banarasi saree?
T
he real handloom Banarasi sarees are secured under Geographical Indication(GI) mark. The rights come from "Banaras Brocades and Sarees." This shows the authenticity of the saree. The handloom industry of the area from Varanasi including Gorakhpur, Chandauli, Jaunpur, Bhadohi, and Azamgarh districts are famous for Banarasi sarees.
Handloom:
P
ure Banarasi sarees are handcrafted. The finest silk (Katan) sarees were woven with the gold and silver brocade or zari. These sarees are expensive because of their craftsmanship (Karigari) and real material is used. The sarees take a long time to weave. It depends on the design of the saree. Some designs can take more than a month or six months. Finest silk(Katan) is the most costly, The pure silk also has been categorized into different grades.
Designs:
I
n Banarasi sarees bright silk yarns are used with brocade or zari. The designs are inspired by Mugal era design. Intricate weaving floral and foliage motifs, paisley and polka dots, bel and kalga, elephant and human figures, palki and musical instruments motifs, geometric and abstract pattern, metallic visual effects, jaal work(bel and Patti), mina work (Minakari) are mostly used in designing.
Color pallet:
M
ostly Banarasi sarees are bright and colorful, but pale and soft shades are also made. There are different kinds of shade being used like single color, dual shades, multicolor, light and dark combinations, by-color shades in the variable portion, etc. A lot of colorful and experimental techniques are used. The sarees can be customized according to customers' choices.
Brocade or zari:
T
he brocade or zari used in the sarees are available in four shades – golden, silver, copper, and bronze. They are divided into two forms – glossy and matte finish. While weaving the Banarasi craftsman properly match zari(brocade) with yarn shades. On the outer edge of the border is a string of vertical threads named Jhallar is the specialty of these sarees. The yarn of Jhallar is the same color or mixed with zari. There are two types of brocade: real and artificial. The real zari is quite costly but long-lasting, instead of artificial Zari. Real brocade is less shiny than synthetic glossy zari. One traditional weaving technique is called Tilfi in which banarasi zari uses three color yarns. Banarasi sarees are unique and never copied again, they are exclusive.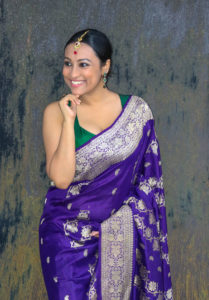 Power loom Banarasi:
T
he sarees intertwine with the help of a machine called a power loom. Due to the high demand for Banarasi sarees, merchandise units are producing sarees by using synthetic material at a faster rate and at a cheaper cost for the market. These artificial Banarasi sarees are available at a cost of 2000/- to 6000/- approx. This kind of artificial sarees is quite heavier in weight. So friends, be aware while choosing your first Banarasi.
Choose your Banarasi saree:
In India lots of authentic saree stores are available. Chose your Banarasi, whether you are buying a handloom or power loom. According to that fix your budget for buying. Real Banarasi is quite costly as compared to power loom. If you are buying handcrafted Banarasi check the authentic GI certificate before buying. Those who cut their budget can choose power looms banarasi also. These beautiful sarees are available in numerous styles and shades. The Banarasi sarees paired with traditional jewelry show a complete divine look that enhances the beauty of a woman.
How to protect your Banarasi saree for years?
W
hen we keep precious saris folded, it starts to burst after many years. Whether it is yarns or zari it gets tangled. Banarasi sarees should be maintained correctly for long use. Butter paper is easily available in the market. Use the paper while folding the saris. This does not make your saris tangled.
The saris should be kept hanging in your wardrobe. This increases the lifespan of your Banarasi sarees even more.
You should use naphthalene and moisture bags in your wardrobe. It will absorb damp from the sarees.
Banarasi sarees should be kept in the sun for a while twice a year. It will be good for your saris because sunlight destroys germs and termites.
Always Dry clean your Banarasi saris. Due to this, your sarees will be good for years. The color of the silk(Katan) and zari will also remain the same.
This is my saree affair, what yours? I am sure every woman has an untold story, the saree gives you the best fashionable look and an extraordinary sensation. No matter of size and shape women look complete with a beautiful saree. The saree is a perfect balance of traditional drapes with a modern twist. To live like a bong diva, wrap 6 yards of saree…