I started my career as a Fashion Designer years back. Learning through my work and projects, I understand the structure of the designing process. Every fashion designer's target is to start a successful career. They are always trying to please their clients with their creativity. The fashion platform is full of aggressive competition that is a challenge for all designers to face. To start as a professional fashion designer select proper Fashion Designing Tools and types of equipment in designing.
Fashion Designing Tools help you to minimize your time, create your thoughts with proper measurements, and develop your unique ideas into productivity. These are important aspects for students as well as professionals. Different tool kits that are used in these 10 basic practical categories of Fashion Designing.
1. Inspirational designing:
The designing impression is necessary for your outfit detailing. Without a good thought of design, implementation can't happen. Your inspiration comes from anywhere surrounding you. It will help you to be more polished in design details such as sketching, coloring, rendering, etc.
Inspirations:
Themes
Occasions
Books
Magazine
Subjects 
Trends
Colors scheme 
Season
Culture
History
Passion
Objects
Any art form
Customer demands 
Study and observation 
Your mood board creation
2. Sketching:
Execute your ideas through drawing and coloring. Sketching is the first important step in your design. Learn how to draw basic bodies, fashion illustration, postures, shading, and rendering your imagination for further implementation.
Sketching Tool Kits:
Sketchbook, chart paper, scrapbook, drawing sheet: A4, A3, etc.
Drawing pencils: Hb, 0.5mm,0.7mm. etc.
Shading (Shadowing) Pencils: 2b, 4b, 6b, 8b, charcoal pencils, etc.
White pencil
Pencil sharpener
Eraser
Clear plastic ruler (18", 1"x 6", 1" x 12") 
Color pencils or Staedtler color pencils 
Pastel
Micro tech pens
Tracing Paper sheet or roll
Carbon paper
Graph paper
Drafting table
Board push pins
Watercolor, poster color
Round and Flat brushes number: 0,2,4,6,8,12
Palette
Paint Brush washer with brush holder( water containers)
3. Computer-Aided Design:
Another form used in drawing and sketching is Computer-Aided Design. In today's updated fashion industry designers are choosing different types of software for their Auto CAD programs to implement their ideas into a structural form.
Software:
Adobe Illustrator
Adobe Photoshop
CorelDRAW
Rhino 6
TUKAcad
C-DESIGN Fashion
Brikl
Sketch pad tools: A sketchpad is the modern vision of computer-aided design (CAD) programs and important for computer graphics designing. It's easy for fashion designers to carry a small sketch pad to create their imagination. 
4. Pattern Making in paper sheet:
After sketching your ideas, it's time for the pattern making process. Where Fashion designers try to draft their designing into execution through measurement techniques, drafting dimensions, details in sizing, developing the design into the pattern sheet with proper measurements.
Pattern Making Tools:
The thick brown or white paper
Tracing paper for garments design
French curve 
Styling curve
Hip curve
L square
Tracing wheel 
Stitching Awl
55 mm ear-drops head Pins wheel 
Pencil (normal, red, white), etc.
Sharpener and eraser
Steel ruler 18"
Paper scissors
Measurement tape
Aluminum yardstick
Notcher
White tape 
Scotch tape
Paperweights
Dress form, texi dress form(adjustable bodies)
5. Fabric Draping:
The intention of pinning fabric around the dress form is to understand the position of the outfit before stitching. It will help to check proper posture and body measurements. For doing this process we need some essential tools.
Draping Tools:
Fabric ( Kora fabric, Muslin, soft cotton)
55 mm head Pins wheel
Fabric tailoring chalk
Measurements tape
Hand stitching needles
Thread opener
Shears scissor
Thread cutter 
Style tape
Tailoring color chalk 
Tracing wheels
Tracing paper roll
Aluminum Yardstick
L square
French curve tool
Hip curve tool
Styling curve tool
Dress form, texi dress form (adjustable bodies)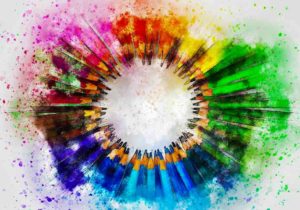 6. Fashion Dummies or mannequin:
We use a dress form to check basic fit, styling, and draping of the garments. Dress form helps to develop proper looks and cuts, shape, sizing, and design. By using dress form modify your creative draping ideas in pattern making and sewed clothing.
Dress Form Equipment:
Adjustable Mannequins (Size: Small, Medium, Large)
Taxi Dress form(adjustable bodies size wise)
Adjustable kits
Available in basic bodies: Man, Women, kids dummies.
Full body dress form ( Size: S, M, L)
Half body dress form (Size: S, M, L)
Plus size dummies: Male, Female
7. Fabric cutting:
Fabric cutting is another vital process in dress designing. When you have a proper diagram for your design pattern, place it into your fabric material, and trace it. It will help you exact grafting before sewing the outfit. There is various Fashion Designing Tools such as tailoring chalk, sizes of cutting mats, and hand shears scissors that are available in the market for students and professionals.
8. Ironing or pressing:
Iron is a heated tool to remove wrinkles from fabric. The heating is done depending on the types of fabrics. Fabric pressing tools are always used in garments draping, cutting, tailoring. It will remove crease lines from the dress material which help in proper ticking and sewing.
Pressing Tools:
Industrial iron
Iron table
Fabric steamer
Steam iron 
9. Sewing or Stitching:
Every fashion student learns about fabric classification, types, and texture before designing. Apparel construction always depends on the cost of material, durability, productivity, and customer satisfaction. The final technique in designing is to construct your outfits with the help of a stitching machine. You can say, the final output of your ideas and creativity. Different types of sewing kits help during the photoshoot, repair, alterations, and last-minute touchup for your fashion shows runway.
Sewing or Stitching Equipment:
Industrial Zuki, Brother, or Local stitching machines.
Tailoring chalk(color).
Different types and numbers of sewing and hand needles. 
Several types of cotton and synthetic threads.
Hand shears scissor.
Decorative trimmers.
Thread cutter.
Thread opener.
Fabric tapes.
55 mm head Pins wheel 
Fabric glue.
Industrial iron
Steam iron
10. Production tools:
Designers want to start production after finishing their designs. Appeal manufacturing is an organized technique done through the process of marking, cutting, stitching, ironing, folding, and packaging.
Essential Production Tools:
Tailoring chalk
Measuring tapes
Heavy-duty industrial iron
Hand shears scissor
Pattern papers 
Stitching according to sizing Dummies 
Sewing machines
Threads
Thread opener
Bobin
Needles
Folding and Packaging
---
Use these Fashion Designing Tools as per your requirement in designing.
"Fashion is not necessarily about labels. It's not about brands. It's something else that comes from within you." – Ralph Lauren, Designer