Christmas around the corner, it's the end of 2020 and I am all in my positive vibes. Life since Covid changed me a lot more from a minimalist in my new normal. I chose my 5-holiday clothing ideas for Christmas and I am excited to reveal them.
Denim Nevertheless:
D
enim never goes wrong whenever I am going out or chilling with my friends. I always feel comfortable with a nice pair of jeans and carry them all day long. This season I am reviewing my wardrobe with a few new buys. The first idea is to mix some old ones with the new collection. My favorite Levis denim with my pink embossed Roar sweat top looks woo! All I set to add on style with my Allen Solly backpack. I believe in the reuse of my things and believe me, it's a great habit! What I want more with this styling, only a lightweight touch-up and a good pair of sneakers. However, masks are mandatory in this season and a lot of
fashion
brands introduce high-end styling masks. So divas! Grab your style notion during this Christmas holiday.
My Tomboy look:
W
ondering what to wear next? Oho! How I forget my Lee Cooper biker jacket. I am quite addicted to black. I can blindly try my pair of denim for any occasion. Sometimes I pick my styling ethnic or mix n match but denim always steals the deal. The tomboy looks like many of us enjoy, and so do I. My mixed wardrobe like this high-waist ripped denim with blacktop and jacket is not less attractive. This kind of comfortable outfit with a pocket-friendly range is the best option to buy. The minimal base makeup with nude lip tints looks winter-ready. I think these simple ready to go peep divas can recreate ones.
Styling with Maxi Dress: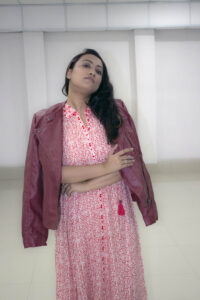 I
f you like to doll up your dressing then try the maxi dresses. Style with a luxurious long maxi dress this Christmas. The relaxing outfit that I wear for a day outing. My pick of the day is the soft red sleeveless long maxi dress. I teamed it up with this vintage leather jacket, elegant yet classy. On this Christmas Eve choose your wardrobe for house parties or holidays like me. Yeh! Why not celebrate a new normal full of styles? However, Bold or nude both shades of makeup can try with this kind of styling. Every diva is beautiful, pampering yourself with a good range of
makeup
is not a crime. I am all set to shine this Christmas, what about you. So girls! Just choose your styling to rock the party.
Comfy Cape Affair:
S
assy or classy! Contemporary wear effortlessly transitions from casual to chic. This winter I grabbed my stunning warm cape from the brand Chemistry. I love to create the old-school look with my mid-length cape. Very comfy and cozy wear that I can try easily. Cape and black stockings look, killer, isn't it? I chose this fashion statement with little nude lip tints. Meanwhile, style divas can choose this killer look for the Christmas holidays.
My Zara Pick:
T
his season nail holiday party dressing in statement ensembles from Zara holiday edit. My personal favorite retro and fun look inspired by the monochrome checks overcoat from Zara. The English styling with stockings nevertheless looks to embezzle the deal. Fashion for me is to sense beauty with comfy styling. My holiday wardrobe never completes without this brand so I am excited to dazzle. I am surviving in this new normal with confidence and styling, what about yours? Christmas holiday this year may be a little different but celebration can't stop. So divas! Treat yourself with the brand Zara's Fall collection. This Christmas makes your holiday special.
Give the perfect holiday self-love with your new attire this season. Enjoy the Christmas holiday and mix your wardrobe with fun.