Draping is the art of styling a sheer fabric luxuriously. Fashionable draping is a process where unstitched fabric is setting and pinning in a unique way. Drape style reflects the fashion statement of individuals. Draping style in ethnic wear or western silhouette both looks classy and stunning. People are becoming more conscious of their clothing. In 2020 drape style is booming in festivals and people are fascinated with the style. The best option is to try trendy drapes in saree, dupattas, dhotis, and various types of western gowns, dresses, etc. There are unique types of draping styles inspired by tailored pleats, Inverted goblet drapery, pinch pleats, grommet pleats, ripple fold drapery, crisp box-pleats, and many more style.
Nine Yard Affair:
D
raping is the oldest technique used in the 18th century. The interesting history of saree drapes was traced back to the Indus Valley Civilisation which evolved during 2800-1800 BCE around the northwestern part of the Indian subcontinent. India has a different essence of the mix- culture, and traditions, the Nine yards of
saree
has a million identities shows our heritage and affluent styling. Almost every age group likes to wear an exquisite saree or dupatta for sure. People of multiple communities and states follow their unique way of wearing nine yards. In India, the drape style always reminds us of attractive sarees. However, women love to look remarkable with their nine yards.
Fashion focuses on experimenting with new styling every day. So we adopt the fast and trending vibes of drapes. Fashion illuminating the free spirit of the modern woman. Therefore, women are ready to flash with unique drape styling. In this modern age, we are seeing a lot of changes in the drape method. 
As a designer, I enjoy playing with the way fabric falls to create new designs with basic bodies, or with my client's measurements. In the UK or U.S.A 'toile' fabric (soft and flowing fabric) is used for positioning and pinning to the mannequin for proper styling before sewing. A draping pattern is always helpful for making stylish clothing to suit an individual. Therefore, the techniques for drape fabric require the knowledge of the fabric's elements. Sheer fabrics such as 'muslin', 'satin modal', 'habotai silk', 'organza', 'crêpe', and 'net', 'georgette', 'chiffon', are useful in drape designs. Meanwhile, people are wearing drapes that look classy and trendy.
Traditional drapes: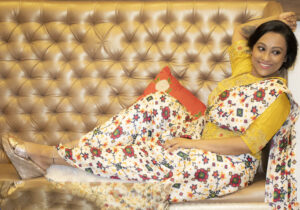 I
am wearing this ready-to-wear saree drape with an ethnic crop top. Trust me it's really comfortable to carry this attire. In India, the traditional saree or dupatta is eternally popular among us. The unstitched saree has a million identities from north India to south India. Women of various states use unique styles in saree and dupatta drapes. Traditional clothing like kameez and dupatta is worn by different communities, and they style them differently. An elegant dupatta with a matching pair of kurta looks great in any festivity. Meanwhile, the dupatta or sarees look unbeatable with traditional jewelry.
Moderate Drape Style:
T
he versatile style of drape where a sheer material, Jersey, or knit fabric falls slightly. These fabrics fall moderately and do not hang much in the body. The fabric can hold a pleat, gather, or fold pattern Nicely. The fall is neither crisp nor flowy. Moderate drape material can be used for anything that depends on sheer fabrics. The silk fabric, soft wools, poly jerseys material, or cotton knit fabric used for maxi dresses, floor-length gowns, A-line tees or skirts, etc. Fabric sheerness is essential for any kind of amazing drape.
Fluid Drape Style:
T
he silky soft fall of a sheer fabric that almost moves like liquid. The flowy dress or wrapper skirt, cowl dress, or maxi attire makes it comfortable wearing. Those who love to flaunt curves must try fluid drapes. Fabric with sheer fabric like satin, silk, rayon, or knit looks enormous with body-hugging patterns. Various forms of pleats gather and tucks increase its styling in drapes.
Full-Bodied Drape Style:
T
he classy and sophisticated drape that falls well.
The full-bodied drapes have all the fun elements of high-end fashion. The stylish drape fabrics hold themselves perfectly and fall around the floor. The evening gown or red carpet attire all looks gorgeous with extreme fall and pleats. These kinds of fabrics are more soft and sheer which perfectly demonstrate body curves. However, dramatic pleats and tucks reveal the designing mystery in fashion. Full-bodied drapes rule in high-end fashion and lots of
fashion designers
experiment with drapes. The Fall & Winter collection or red carpet look never goes wrong with heavy drape gowns. Pique knits, sheer satin, crepe, habotai silk, and soft net fabrics are mostly used for heavy full-bodied drapes. Dresses, long floor-length gowns, circular skirts, drape jackets, unstructured body-hugging drapes are a few styling that always rules the ramp walk.
---
Those who look classy with a mysterious move can choose drape styling. A lightweight gown is a good option for the first date. However, a full-bodied dramatic drape can be selected for red carpet events. So divas! Pick up your drape style with your full-on swag.