Fashion history shows the popularity of the capes style several times. There are different types of capes. "Cloak" comes from the Latin word meaning Full-Length cape or Calf Length. On the other hand, capes are typically shorter, falling to the hips or thighs, some capes are below the knee and floor-length also.
World History of Cape Fashion:
If we look at world history, In the 18th-century scarlet wool hooded cloaks, were very popular to protect from uncertain weather. In the Victorian era, capes were worn by more women than men. However, we saw capes in superhero stories or worn by magicians, etc. In the 1950s, designers recreated the capes with new styling, cuts, length, in fashion. Capes were worn as rainwear in the military in Europe and worn by Roman soldiers also. In the 1970s poncho capes were more famous among ladies. Capes have been designed with unique patterns in different eras.
The cape fell out of fashion and returned when fashion designers reimagined it. In 2020 we are using capes with different ethnic outfits, from lower range to signature collection every design is available in the market. Indian fashion designer Anamika Khanna's silhouettes, including her signature "capes", are the trendsetters of gen-y fashion. Her cape designs are booming since 2013 in the fashion market and still, people are enjoying the craze. Top celebrities love to sizzle in her signature cape style. Today ethnic and mix n match capes are in high demand. Women are enjoying signature capes to enhance ethnic outfits like sarees, kurtas, long gowns, shararas, jumpsuits, and many more.
 As a fashion designer, I feel work is the elixir of life and it's challenging to create new designs. I have designed ethnic capes that have good demand in the market. Some of my creations that customers like to wear, and have good responses in various multi-designers stores. People can pick these designs easily from designer stores in India. Some ethnic capes look good with shararas, wrap skirts, pleated cowl skirts, Anarkali, etc.
Multi-Color Resham & Pearl Dori Cape:
This beautiful design is quite old but loved by people. The floor-length gown looks great with this stunning organza cape. Two more stylings added to accomplish this design are the hand embroidery belt and the chiffon detachable drape. The bright and vibrant Resham thread hand embroidery looks classy with pearl highlights. These multicolor threads and pearls crafted belts adding the fashion statement. However, the off-white pearl embroidery on the drape balances the entire set. This vibrant embroidery looks great in bright and pale shades. Grab this style for an ethnic diva look that suits your fashion statement.
Threads & Antique Embroidery Cape: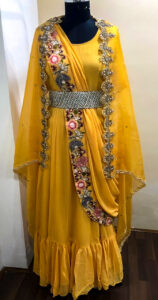 This exquisite ensemble concept georgette Anarkali with chic scallops edge cape with chiffon drape and belt complementing the impression. Ethnic craftsmanship in antique Dori with Pearl and multi Resham look stunning together. I got the idea of mixing two techniques when a client wanted a cape with a little twist. She wanted to mix and match standout gazes for her traditional function. So we created this style with the perfect composition of threads, antique materials, Dori, and pearls. Women of all ages prefer this cape and gown combo for the festival and traditional functions.
Shaded Organza Cape:
Perfect bright rust n red shaded organza side slit cape looks stunning with ethnic needlework. Heavy traditional craftsmanship in grey Dori with pop shades threads and sequence balance the outfit. Three pieces of attire have a full embroidery crop top enhanced with a pleated satin cowl skirt and a shaded cape. This type of cape can be separately worn with sarees also. Fine ethnic embroidery looks marvelous on the silhouette. This type of attire can be worn at a wedding or on traditional occasions.
Contrast Color Cape:
The vibrant and contrast color pallet cape for those who love colors. The ethnic floral single Resham embroidery with a golden sequence looks mesmerizing. This style can be paired with different types of outfits like a cape with a saree, a cape with Anarkali, a cape with jumpsuits, etc. The crop top can be worn separately with a saree, jackets, or skirts. To break the stereotype, use your own styling with this kind of attire.
Pastels Shade Cape:
The luxury fusion wear that focuses on fashion statements. To look complete diva, this sophisticated yet modern cape is the right choice for day celebrations. The cape is comfortable to wear with side slits and shoulder hooks. The artistic embroidery is a perfect balance of pastel shade threads, light golden Dori, sequence, and small beads. If you want to look unusual then try this cape with an off-shoulder dress.
Organza Cape with 3D Embroidery:
The perfect colors and hints of embellished organza cape steal your eyes. Georgette Anarkali dress to look complete with belt and placket cut cape is comfortable to wear. The artisan machine embroidery with highlights is no less than handwork. This 3D lace rose motif stitched on chiffon drape with Resham and pearl needlework paired beautifully. This kind of cape looks decent with a crop top and sharara also. So divas, try this signature styling with your own fashion concept.
Silk & Organza Cape:
It's really challenging to create exquisite Concept styling to fulfill clients' satisfaction. This cape design for fashion-conscious people, those who want to look gorgeous. Attached silk and organza with plackets cut are comfortable to wear. The paisley and abstract motifs in grey Dori embellish on the upper portion of the cape look heavy. The thread and sequence needlework highlight the style in the lower portion of the cape. I have designed this ethnic style pattern for weddings, cocktails, or traditional functions. This heavy cape looks decent with crop tops and cowl skirts. Those who want to mix ethnic wear with a modern twist should try an off-shoulder gown with it. This majestic cape style can adorn all body types and ages.
---
I have designed Indo fusion craftsmanship capes in vibrant hues for people. Every design is luxurious for fashion lovers. The new experiment is always using for improving designs. I take inspiration from various forms of styles and patterns that I try to incorporate in my work. I am learning to increase my creativity in designing. As a fashion designer, it's interesting to play with fabrics, colors, patterns, and especially embroideries.