A Fashion Portfolio or Lookbook is a brief collection of project works that implies designers' skills, talent, and knowledge in fashion design. The presentation shows creativity in attire stitching with proper inspirational research and practice. Meanwhile, a fashion portfolio is important for all, either a student or a professional. The hard copy (lookbook) of the fashion portfolio can be any size of worksheets – A4, A3, etc. As backup plan designers maintain a digital version of the portfolio via chip or pen drive. The entire portfolio or lookbook shows the skill and creativity of designers that help them to get a job in the fashion industry. Those who want to be a fashion designer can try a simple DIY portfolio.
Inspiration Research:
The first part of the clothing design is to develop layouts from inspiration. Every designer's motto is to research the fashion trend, something new and innovative for their clients. The fashion portfolio is observable presentation research from inspirational themes, images, occasion, nature, history, culture, abstract art, concept, sculptures, 3D art, passion, books, or from anywhere. That analysis about designing work and developments as a final project which is necessary for an attire designing. A few points in the fashion portfolio all are interlinked and necessary to follow.
Mood Board:
The Mood board is an inspirational format or a presentation sheet that defines the thoughst and themes of the designers. Every fashion designer creates a mood board or themes board and explains their creative ideas before developing their garment collections. The whole range of design depends on concepts and experimentation.
StoryBoard:
A storyboard includes important factors that are related to the mood board. The storyboard is a development board or sheet which shows the detailing aspects of design.
In designing the color story should be based on fashion trends, seasonal, market research, and demand that shows the inspiration of the mood board.
Detailed research in the raw material is essential for stitching. Select fabric samples and swatches that are related to the theme, and also if required create similar embroidery, block prints, tie-dye, hand stitch, computer prints, different techniques in garments modification, and stitching.
An accessory such as buttons, hooks, zip, ribbon, feathers, or any kind of accessories that are required for garment enhancement. Designers use accessories for detailed clothing.
The types of motifs, hand embroidery, machine embroidery, threads, samples, and swatches are saved in the storyboard for outfit stitching.
The storyboard shows good research work regarding the collection which has all details mentioned.
The design collections should be related, wearable, and practical for developing garments.
Design board: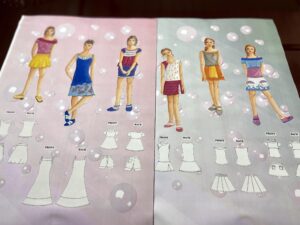 The third sheet shows the Croquis, illustration drawing with complete finishing. The designs of the garments show the exact glimpse of the appeal, proper coloring, and rendering, all details drawn like clothing, accessories, jewelry, etc. Inspiration in designing must be used in a single design or for large collections. This whole section of clothing is the design range. The color palette is the same use for this whole range of designs, but the cuts and looks are slightly different.
Line up fabric or flat sketch:
A flat sketch or layout is a 2-dimensional drawing that shows the garment's flat pattern. Flat drawing demonstrates the detailing of the cuts, hemline, stitch lines, pattern technical look of the outfits. The drawing can be done with the micro tech pen or with the help of software programs such as Corel DRAW, Adobe Illustrator, etc. The line-up fabric includes wash and care instructions, fabric maintenance, specific details, etc.
Development sheet:
The development sheets include basic bodies and original patterns in garments stitching with proper measurements. After a flat sketch and all detailed information of designs, range pattern making or tracing sheet is important for sewing. The patterns shaped into brown paper and rough cloth are used for draping in the mannequin to check proper fits. This can't be attached to a portfolio book due to its size and shape. But the pattern sheets are necessary for tracing fabric in designing.
Final Presentation:
The whole process of a lookbook or fashion portfolio is a final presentation. The fashion portfolio includes a mood board, storyboard, design board, pattern detailing, and flat sketch. Designing students write their inspirational elements and personal statements about their introduction in the lookbook.
Sometimes, professionals maintain to update their CV and hand out copies for the interview panel. This is mandatory for all fashion design students and professionals to show their creativity in this field. All Fashion Institutes or universities have different portfolio or lookbook requirements, so students should follow their instructions before organizing it. Therefore, those who are interested in DIY designers and professionals can follow this step-by-step process of creating a portfolio.
What are the types of Fashion Portfolio or Lookbook?
Entrance Portfolio:
After completing a fashion diploma or graduation, if students apply for their further studies, masters, or research work then an entrance portfolio is useful. The portfolio or lookbook displays designers' creativity and knowledge.
The entrance Portfolio highlights the design area like drawing abilities, coloring, sewing test, a manuscript about work concept, flat sketch, knowledge, and introduction cover page.
The portfolio shows the quality of the process in garment stitching. Every type of design should be original, fresh, and creative is more valuable in the design area.
Professional Portfolio or Lookbook in job and Business:
Job:
A fashion portfolio is a key point to employment as a Fashion Designer. Every designer must have the ambition to get a decent job in the fashion industry. The portfolio gives the opportunity to show the versatility of a designer. A fashion lookbook is necessary to apply for jobs. The fashion portfolio is equal to the bio-data in the fashion industry.
Business:
Those who are starting a fashion business It's essential for them to make a professional portfolio that indicates every detail of ideas, designing information, flat sketches, the raw material (fabric) used, garments production details, cost sheets, etc. It's an easy structure to maintain all design details and practical notes.
Along with the fashion portfolio, a fashion photoshoot is essential in designing. Designers want to update their lookbooks with pictures of their latest collection. The latest attire collection modifies as per seasonal changes or demand. Designers shoot fashion portfolios with models for their clients, presentations, applying for fashion shows, exhibitions. etc. They add pictures to their lookbook as a collection.
Organize your DIY Fashion Portfolio with maximum details that help to stitch your desired outfits, and show them to the world. If anyone wants to become a fashion designer must try to create your own DIY lookbook. It's interesting to choose inspirations and demonstrate them with this process of work like professionals.